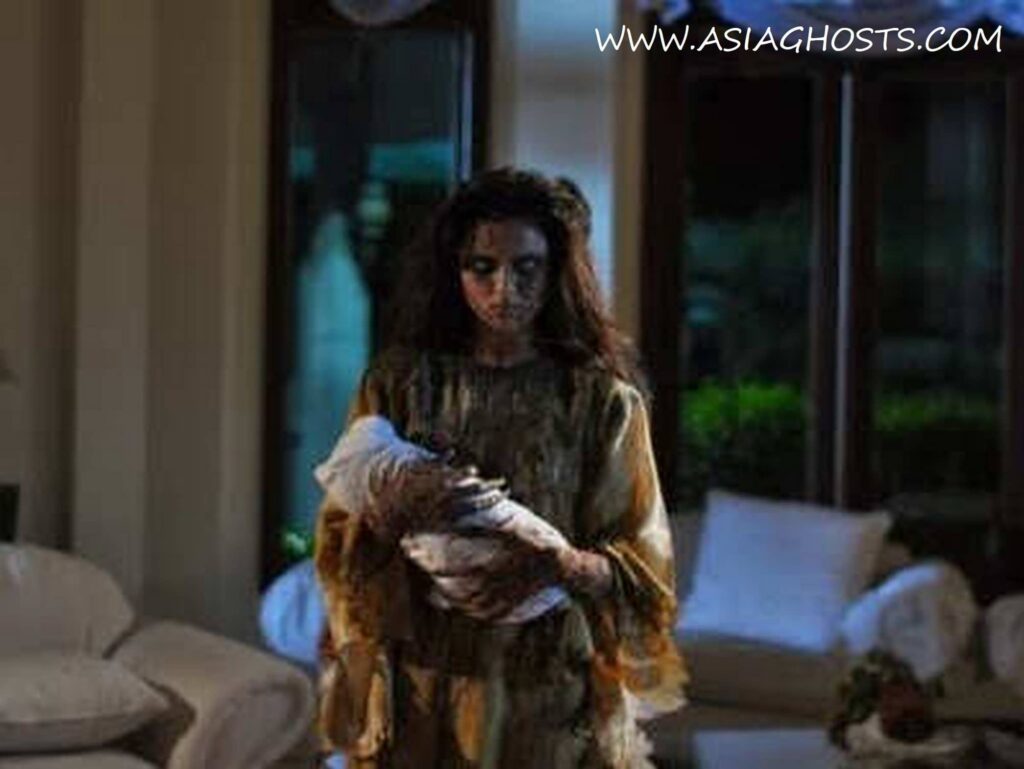 I used to live in an executive apartment which I believe was haunted and probably still is. It is situated next to Sungei Api Api which is a natural river and where many have reported sightings of a white figure floating along its banks.
When we first moved into the apartment, I was expecting our first child. We had a priest bless our home on the first day we moved in. I have always been a very 'sensitive' person and am able to feel presences, good or bad, and from the moment we moved in, I had a strange feeling about our home. The eeriest place was my kitchen. On many occasions, I have had the sensation of someone or something staring at me while I went about my chores. The hair on my head, the back of my neck and my arms would stand on ends and this sensation would not leave me until I had walked out of the kitchen.
Another similar incident happened while I was taking a shower. I felt a presence in the bathroom and at one point, heard my name being called in a whisper. I screamed and ran out of my bedroom. My husband, who was in the study, rushed out upon hearing my screams, thinking that I was in labour. Upon questioning, he denied having called my name.
There were many other incidents that happened in this apartment. A toy train suddenly chugging, a dining chair being dragged and tapping sounds on the leg of a chair. Once, when my parents and younger sister were living with us, I saw my sister enter my bedroom. I asked my mother to check on what she was doing in the room and when my mother told me that there was no one there, I was puzzled. My sister was in her own room. My mother knew what I had seen was not a figment of my imagination and advised me not to say anything about it.
The elder of my children, a boy, was not spared these strange happenings. As a three year old, he started telling his caregivers at a day care centre about his imaginary friend who flew into the study room to play and only flew out again whenever I entered the room. This 'friend' of his even followed him to day care one day and hovered outside the premises, waiting to play with him. Needless to say, I was called in by the supervisor of the centre, who along with the other caregivers, were deeply disturbed by this. I questioned my son carefully but he refused to say much except that his 'friend' had no mummy and daddy and was lonely. I did not call in a priest but I blessed the whole house myself by sprinkling holy water and saying a prayer for the home.
We have since moved out of the apartment and currently live in another part of Pasir Ris and thankfully there have been no strange occurrences in our present home. It is something I would not want to experience again.
To visit our home page, click here- https://asiaghosts.com/
Hunt for ghost gifts here – https://asiaghosts.com/ghost-gifts/
Visit our Instagram Page here- https://www.instagram.com/asiaghosts/
Visit our Facebook Page here- https://www.facebook.com/asiaghosts/
To see ghost videos, visit our youtube channel here – https://www.youtube.com/channel/UCoKCE87Xjrk-Qm6cXJ7951w
Tags
Asia ghost , ghosts , ghost , paranormal , halloween , horror , scary , haunted , ghostbusters , ghost adventures , death , hell , heaven , god , ghost whisperer , religion , ghost festival , pontianak , fear ,mystery , thrilling , ghost story , ghost caught on camera , ghost of tsushima , ghost rider , haunted house , ghost hunters , ghost recon , ghost movie , are ghosts real