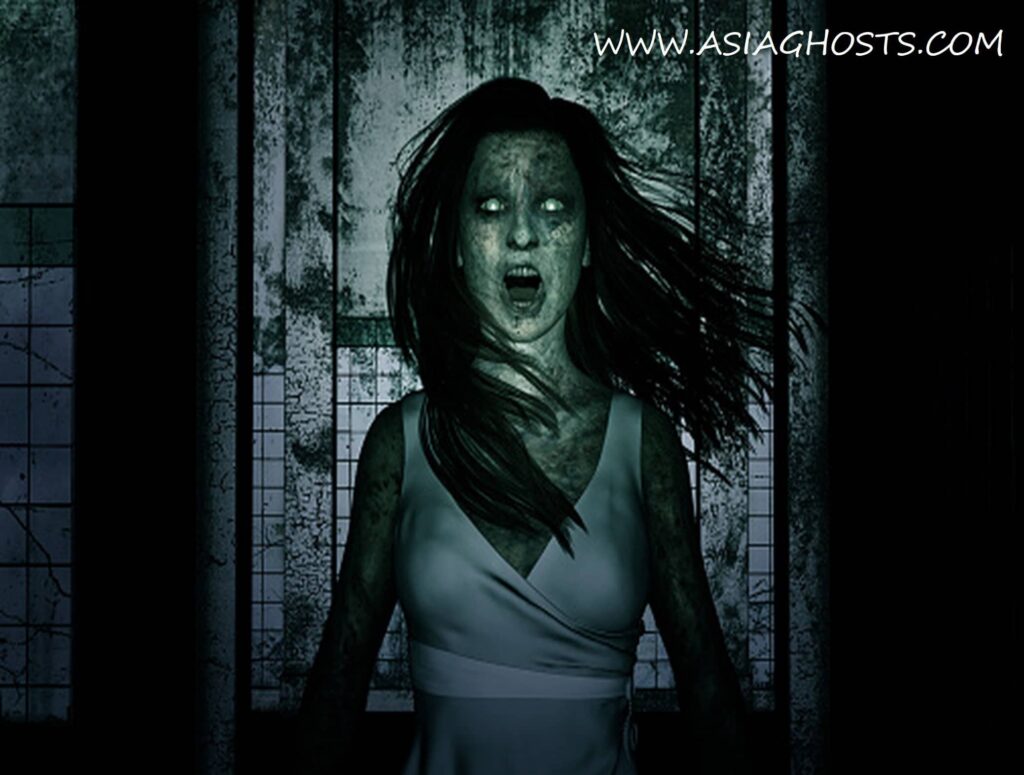 Loyang Secondary School. It was rumoured that in the 4th floor girl's toilet at the old block, it is haunted and that is why the lights are kept on for 24 hours. Those students who had helped out in the AVA room claimed to see a lady walking along the backstage.
Ngee Ann Polytechnic was rumoured to have a girl student died in one of the engineering workshop because her hair got stucked in some machine and screams can be heard from the workshop at night.
Tampines Secondary School was said to be haunted by the spirit of a girl whom was raped by construction workers during its construction days in the 1980s.
Hai Sing Secondary School had a mother Mary there whose statue will drip blood.
CHIJ Saint Josept Convent had rumours about why a cubicle is always locked. It was said that a girl was waiting for her parents to fetch her one day while she got raped and thereafter hanged herself in one of the toilet.
Pei Dao Secondary School was famous for the smacking and hitting noise at night in the basketball court. The music room was also rumoured to be haunted with a piano playing by itself every night at 12am sharp.
Pasir Ris Crest had an indian construction worker committed suicide in the toilet in its construction days. It was rumoured that the toilet was locked eversince after students complained about seeing a man stabbing himself repeatedly in the stomach.
Queenstown Secondary School was famous for the tomb stone that was found in the field by students.
Bedok View Secondary School had a toilet next to the bio lab on the ground floor haunted by a long haired ghost obsessed with combing her hair infront of the mirror. A few girls went into the toilet and ran out screaming and crying while it was rumoured the principal went inside the toilet to scold the ghost.
Yuying Secondary had its teachers and principals seeing silhouettes of children running around the school compound when worked late. It was said that when the school was doing its upgrading work, construction workers quitted one by one after witnessing strange occurrences.
Gan Eng Seng Secondary School had its 4th storey Ary Class haunted to the point of the teachers wouldn't dare to enter the room alone. The rooftop of the building was rumoured to live a singing lady whose voice could be heard in an art classroom.
Singapore Polytechnics had T1,T2,T3…..but no T13. A student committed suicide at one of the teaching block's toilet after stabbing the lecturer ( the lecturer died too). Screams can bea heard at night when part time students were having classes.
Haig Girls Secondary School used to be a place to hold POWs during WWII. There is an area within the school compound which has more than usual rate of accidents occuring. It seems many people would trip and fall while walking along the compound. Was rumoured that walking across the field diagonally cutting across field at night, you will be greeted by an old woman asking you to buy matchsticks from her.
Meiling Seconary School has a railway track behind its building. The school was moved to a temporary building they were building a new one. A broken hand was rumoured to be crawling somewhere in the technical lab from a student whose hand was saw off during lesson and bleed to death. At the old school in Bukit Merah, the toilet on the 5th floor was locked because it was haunted by a girl who hanged herself in the toilet.
Boonlay Secondary School had a pond in the middle of a science block with classes. It was said that if one look at the pond at night, there will be a strange face that will surface out of it.
Temasek Polytechnic was rumoured to have an indian worker binding wire inside a pillar but a colleague pour cement inside the pillar burying him in the process and they only found out when the whole building was almost completed. It was rumoured that the body is still inside the pillar which is believed to be somewhere in Block 18.
ACS was rumoured to be haunted by a boy who jumped into the gears in the gear room of the clock tower. Students being possessed were common in the school.
In Temasek Polytechnic, Engine block corridors from Block 18 were so haunted that guards wouldn't patrol that area. A famous story told by a guard was he saw a student at a locker as he was patrolling and as he make an U turn few minutes later, he found a piece of newspaper on the floor with that student's face he just saw. Only problem is that student was killed by a sports car at the bus stop few months back.
Ngee Ann Polytechnic was rumoured to be built on burial ground. The slopes and hilly grounds is an indication of bunkers underneath.
Clementi Town Secondary School had its Home Econs and Science Lab haunted by a ghost whose head roll on the floor.
Tanjong Katong Secondary were said to be haunted at its studio. Band members staying the night were always disturbed while sleeping.
To visit our home page, click here- https://asiaghosts.com/
Hunt for ghost gifts here – https://asiaghosts.com/ghost-gifts/
Visit our Instagram Page here- https://www.instagram.com/asiaghosts/
Visit our Facebook Page here- https://www.facebook.com/asiaghosts/
To see ghost videos, visit our youtube channel here – https://www.youtube.com/channel/UCoKCE87Xjrk-Qm6cXJ7951w
Tags
Asia ghost , ghosts , ghost , paranormal , halloween , horror , scary , haunted , ghostbusters , ghost adventures , death , hell , heaven , god , ghost whisperer , religion , ghost festival , pontianak , fear ,mystery , thrilling , ghost story , ghost caught on camera , ghost of tsushima , ghost rider , haunted house , ghost hunters , ghost recon , ghost movie , are ghosts real